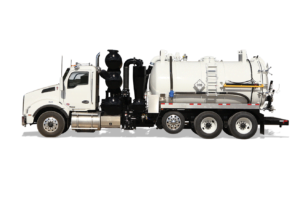 Notos Vacuum Truck
Featuring:
• Robust design and construction that will handle your most demanding applications
• Handles heavy sludge, slurries and the toughest liquids
• Minimizes material carry over from tank to filtration system
• Ultimate protection of the blower utilizing dual cyclones to filter the air prior to the final filter
• Washable inline blower filter to protect blower from fine particles
• Blower Over-temp Protection System (BOPS) prevents the blower from overheating when filter is
clogged
• Pressure offload your tank using the secondary vane vacuum pump
• Vacuum load your tank using the secondary vane pump for liquid loads and for operating in refineries
• Designed to carry hazardous material on the federal interstate highway system
• Maximum use of your truck axle weight limits on any road, federal highway or worksite
• Empty your tank without dumping all over your bumper using our PATENTED SLIDING TANK DESIGN
• Monitor your axle weights using the on-board air scales, reducing over weight tickets
ONE TRUCK FOR ALL YOUR HEAVY DUTY NEEDS!
Tank:
DOT 407/412, ASME designed & certified for full vacuum, 25 psi for int. pressure and
15 psi ext. pressure
3600 USG (+3% outage) tank made of carbon steel
Full opening rear door with dual side mounted hydraulic cylinders with semi-automatic
safety brace
Hydraulic dump cylinder for dumping tank with semi-automatic safety stand
6 Manually operated polished rear door bolt and wing nuts
20" Manway mounted top of tank
8" Primary shut-off mounted top of tank with 8" and 3" air operated isolation valve
Rear door mounted rotary float gauge
6" air operated suction valve mounted on rear head with 6" standpipe, deflector plate
and air switch
6" air operated discharge valve mounted on rear head with air switch
Half baffle
Positive Displacement Blower:
Roots DVJ 721 PDB capable of 3600 CFM and 27" full vacuum driven by heavy duty OMSI driveline-mounted transfer case. Blower Over-temperature Protection System (BOPS) designed to automatically protect blower from overheating.
Rotary Vane Pump:
PTO hydraulically driven moro, NVE, masport or optional rotary vane pump of your
choice controlled from valve body. 350-630 CFM (up to 28" Hg and 15 psi off-loading
pressure)
Vacuum System:
Modular subframe design
Dual 20" cyclone for filtration of airflow to minimize carry over with 20" drop box and
3" drain valves
30" final filter housing with 100 micron washable inline filter to protect blower with
10" Check valve
8" Disconnect and 3" non-disconnect piping to allow tank to dump
3" Secondary shut-off and oil catch muffler with 3" hose connection both with drain valves
Pressure relief valve, vacuum relief valve and vacuum pump flush portaulically driven vacuum pump, powered by Muncie PTO, and Parker hydraulic valve body pumps and motors.
Trim:
Full length enclosed hose trays with drain ports
Fully FMVSS certified LED truck lighting with LED side markers and 2 LED rear-mounted
work lights
DOT rated bumper
Easy fold-up ladder on driver side for access to manway and top of tank
Weather sealed tool box
SS control panel for tank vacuum/pressure gauge, hydraulic pressure gauge, emergency
shut-off switch, isolation valve switches, digital temperature gauge, digital tachometer
and throttle control
Hydraulic vibrator mounted to the bottom of tank
Chassis:
Mounted on Rush Supplied chassis or your chassis
Optional Equipment:
Patented load boosting system designed to maximize your carrying capacity in any
state and prevent from dumping on your bumper
On board air scales for monitoring axle weights
NVE re-buildable rear valves in steel or stainless steel
Lined interior for tank for handling caustic material
Custom tool boxes
Transfer pump
Full tank length catwalk assembly
Aluminum side tray/fenders
Additional LED lighting
High-pressure wash down system
Gallery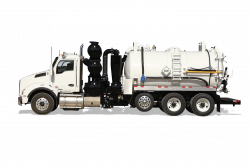 4 Photos
Contact
Call Now