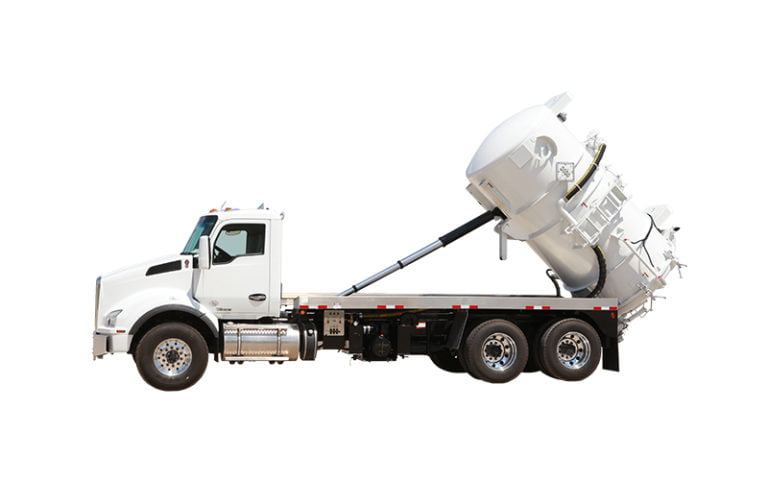 Talos Vacuum Truck
The new Talos Vacuum Trucks is a robustly designed and constructed truck that will handle your most demanding applications. Whether your application needs are very specific or varies in nature, we have the capability to configure this series to suit your application. The new series uses a rotary vane vacuum pump that is most commonly used to load and haul liquid and light sludge. The series is available in a DOT407/412 Coded version for the transportation of Hazardous Material and a Non-Coded version for all other applications.
Some of the Industries that the Talos serves are: Industrial Waste, Chemical, Petro-chemical, Hydro-electrical, Agricultural, Manufacturing, Hazardous Material Clean up, Waste Water, and Aviation.
See It In Action
Tank:
DOT 407/412, ASME
Designed and Certified for Full Vacuum, 25 psi for Internal pressure and 15 psi external pressure
2000-3600 USG tanks available in Carbon Steel
Full opening Rear Door with dual side mounted hydraulic cylinders
Front head mounted Dump cylinder for dumping tank6 Manual operated Polished Rear Door bolt and Wing Nuts20" Manway
4" Primary shut-off mounted in 12" hatch with 4" Air Operated isolation valve Driver Side mounted Rotary Float gauge
4" Betts air operated Suction valve mounted on rear head with 4" Standpipe and deflector plate with air switch
6" Betts air operated Discharge valve mounted on rear head with air switch
Bolt-on half baffle
Rotary Vane Pump:
Fruitland RCF870, NVE 866 or optional rotary vane pump of your choice
Vacuum Pump Drive:
Hydraulically driven vacuum pump, powered by Muncie PTO, and Parker hydraulic valve body pumps and motors.
CFM rating:
350-630 CFM (28" Hg, 15 psi off-loading pressure)
Vacuum system:
Modular subframe design
Secondary Shut-off and oil catch muffler with 4" hose connection both with drain valves.
Pressure relief valve, vacuum relief valve
4" non-disconnect hose to allow tank to dump with hose connected.
Trim:
Aluminum full length enclosed Hose trays with drain ports
LED truck lighting with LED side markers – Fully FMVSS certified
2 LED rear mounted work lights
DOT rated bumper
Easy Fold up ladder on driver side for access to manway
Weather sealed Tool Box
SS control panel for Tank Vacuum/Pressure gauge, Hydraulic pressure gauge, emergency shut-off switch, rear valves switches and isolation valve switch
Chassis:
Mounted on Rush Supplied chassis or your chassis
Optional Equipment:
Patented Load Boosting System designed to maximize your carrying capacity in any State
High pressure wash down system
Non- dumping tank
Non-opening rear door
NVE rear valves
Polished Aluminum Diamond Plate Tool boxes
Transfer Pump
Full tank length Catwalk Assembly
Additional lighting
Gallery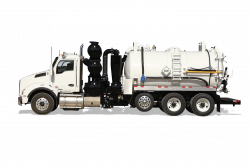 4 Photos
Contact
Call Now