For over 30 years rush-overland has been manufacturing heating and pumping equipment for the oil & gas and wastewater industries. Zeus is the newest edition to rush's vacuum truck line. Like all of our trucks, it is purpose built to meet your specific application. Ease of operation, maintenance and customer input is designed into every unit. Let rush design your next hydroexcavator to meet your specification and needs!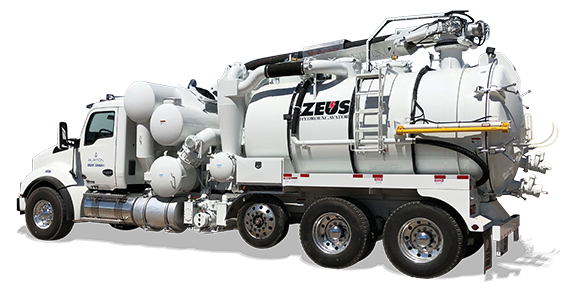 Robustly designed and constructed that will handle your most demanding applications
Handle solids, heavy sludge, slurries as well as the toughest liquids. The Zeus Truck will pick up anything that can fit in an 8" hose!
Available with up to 6600 CFM Positive Displacement blower
Ultimate protection of blower using dual Cyclones to filter the air prior to the final filter.
Washable inline blower filter to protect blower from fine particles
1000 USG of water in a front mounted internally coated water tank with optional vacuum loading capabilities
2600 USG Debris tank with internal baffle, full opening rear door and 8"x 26 ft reach x 6 way hydraulic boom that operates 320 degrees with standard wired pendant and optional Wireless system to remotely control the system.
Various water pumps and hose reel configuration based on our needs.
Water system is designed for your application in your area. Standard warm weather features with optional cold weather system to protect system in sub-zero environments.
Configurable to suit your application. A variety of available options.
The one truck that handles all of your heavy duty hydroexacavating needs!
The ZEUS SERIES is combination of decades of vacuum truck design and manufacturing experience with the superior quality that you have grown to know and expect from RUSH OVERLAND MANUFACTURING.
Standard Specification
Tank
Designed for Full Vacuum, 15 psi for Internal pressure and 15 psi External pressure
2600 USG tank made of Carbon Steel
Full opening Rear Door with dual side mounted hydraulic cylinders and Semi-automatic Door Saftey brace
Hydraulic dump cylinder for dumping tank with Semi-Automatic tank safety stand.
6 Manual operated Polished Rear Door bolt and wing nuts
20" Manway on top of tank
Primary shut-off mounted in 20" Manway. Easy access for removal and servicing through lid of manway.
Rear door mounted Rotary Float Gauge
6" Manual suction valve mounted on rear head with 6" Standpipe, deflector plate with aluminum camlock and cap.
6" Manual discharge valve mounted on rear head
Half baffle
Hydraulic vibrator mounted on bottom of tank
Water Tank
1000 USG front mounted tank made of Carbon Steel internally coated with Tnemec 141 Epoxy
20" Manway located in to of tank
3" fill line with shut-off valve and camlock connection
Water pump feed line with shut-off valve with non-disconnect piping
3" air operated drain valve
Three 5" Sight glass
15 psi pressure relief valve.
Water System
18 GPM @ 2900 psi hydraulic driven water pump
Unloader valve, safety relief valve, hand gun with quick disconnects
Spring rewind hose reel and 100 ft of ½" hose
Bloom
6-way hydraulically operated 8" Boom extendable to 26 ft c/w with heavy duty boom hose and band lock fittings and 320 degree rotation.
Wired pendant with 25 ft extension and optional wireless controls
Three 8" x 60" diameter boom extension tubes mounted on the side of truck.
Positive Displacement Blower
Roots DVJ 827 PDB capable of 5775 CFM and 27" full vacuum driven by heavy duty OMSI driveline mounted transfer case. Optional Robuschi/Gardner Denver RBD-145 or Hibon 8702 blowers available.
Vacuum System
Modular subframe design
Dual 20" Cyclone for filtration of airflow to minimize carry over with 20" drop box and 3" drain valves.
30" diameter final filter assembly with 100 micron washable inline filter to protect blower.
12" Check valve to protect blower from turning backwards.
Dual 8" Disconnect piping to allow tank to dump.
6" manual vent valve and 6" Air-operated vent valve
Blower over-temperature protection system
Pressure relief valve
Trim
Full length enclosed Hose trays with drain ports
LED truck lighting with LED side markers – Fully FMVSS certified
2 LED rear mounted work lights, 2 side mounted work lights, and one work light mounted near control panel
DOT rated bumper
Easy Fold up ladder on driver side for access to manway and top of tank
Weather sealed Tool Box
Enclosed Control panel for protection of gauges
Chassis
Mounted on Rush Supplied chassis or your chassis
Optional Equipment
NVE re-buildable rear valves
Stainless steel valves
Custom Tool boxes
Full length Catwalk Assembly
Aluminum Side tray/Fenders
Additional LED lighting
Hydraulic operated door clamps
Wireless boom controls
Cold weather system – heated cabinets and valves, air purge systems and winterizing system
400,000 or 700,000 BTU/hr heater for cold weather operations.
Various hose reel options
Vacuum loaded water tank using hydraulically driven vacuum pump.